Dr. C. Purna Chandra Rao
We are proud of our Silicon city atmosphere and values and we are proud of our children and parents. We strive each and every day to provide our children with a well-rounded high quality education. We are committed to academic excellence and we are willing to go the extra mile in order for each of our children to reach a high level of success. Embracing cultural diversity is a top priority as we continue to see our population grow each year.We focus on democratic intrinsic to a creative beginning of life through good education. This right to good education is where every child has his own justification to the society.
"I have never let my schooling interfere with my education". Quoted Mark Twain a great writer of all times. That's exactly what we envisage in the process of schooling, which is just one phase of life while education is a never-ending process. The process of schooling is to cater each child with the best education in safe, happy and caring hands. Let us provide Education that ensures the physical, emotional, spiritual, social and aesthetical development of the child in addition to academic excellence.
We hope that you will also be able to visit the school and talk with the principal, so that there will be a successful partnership between home and school. We want your children to be happy at school because we believe that this is essential if they are to succeed. With us Schooling is an experience with difference.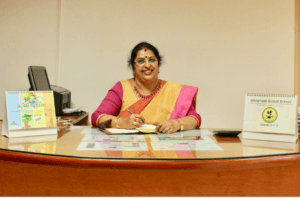 Mrs. Sarada Chandrasekaran
"We believe in giving the child what he/She needs, Not in giving what he/she wants"
Our Vision and mission are to create new vistas in education that imbibes in our children humanistic values, 21st century skills and help prepare them for future global leadership roles.
We will achieve this by galvanizing and continually nurturing our entire teaching-learning systems, processes and people to create opportunities for our children to experiment, experience and enjoy lifelong learning beyond classrooms and text books.
WGS curriculum is progressive in design and creative in approach. With the objective of creating global citizens we strive to inculcate transversal competencies, good conduct, Character, communication, combined with values in them through our curriculum.
We encourage them to set their learning goals and support them in achieving them.
Every globalite (the student of WGS) will be a responsible citizen, empathetic human being, responsible inquirer, knowledgeable collaborator, effective communicator and an active learner.
We develop  within each student the desire to know, the tools to seek and the ability to find, understand and use information as a means to becoming self-sufficient and responsible,
We believe in giving the child what he/she needs not what he/she wants.
To, quote Swami  Vivekananda
When I asked God for Strength, He gave me difficult situations to face. When I asked God for Brain & Brown, He gave me puzzles in life to solve. When I asked God for Happiness, he showed me some unhappy people. When I asked God for Wealth, He showed me how to work hard. When I asked God for Favours, He showed me opportunities to work hard. When I asked God for Peace, He showed me how to help others. God gave me nothing I wanted, he gave me everything I needed.